This Post May Contain Affiliate Links. Please Read Our Disclosure Policy here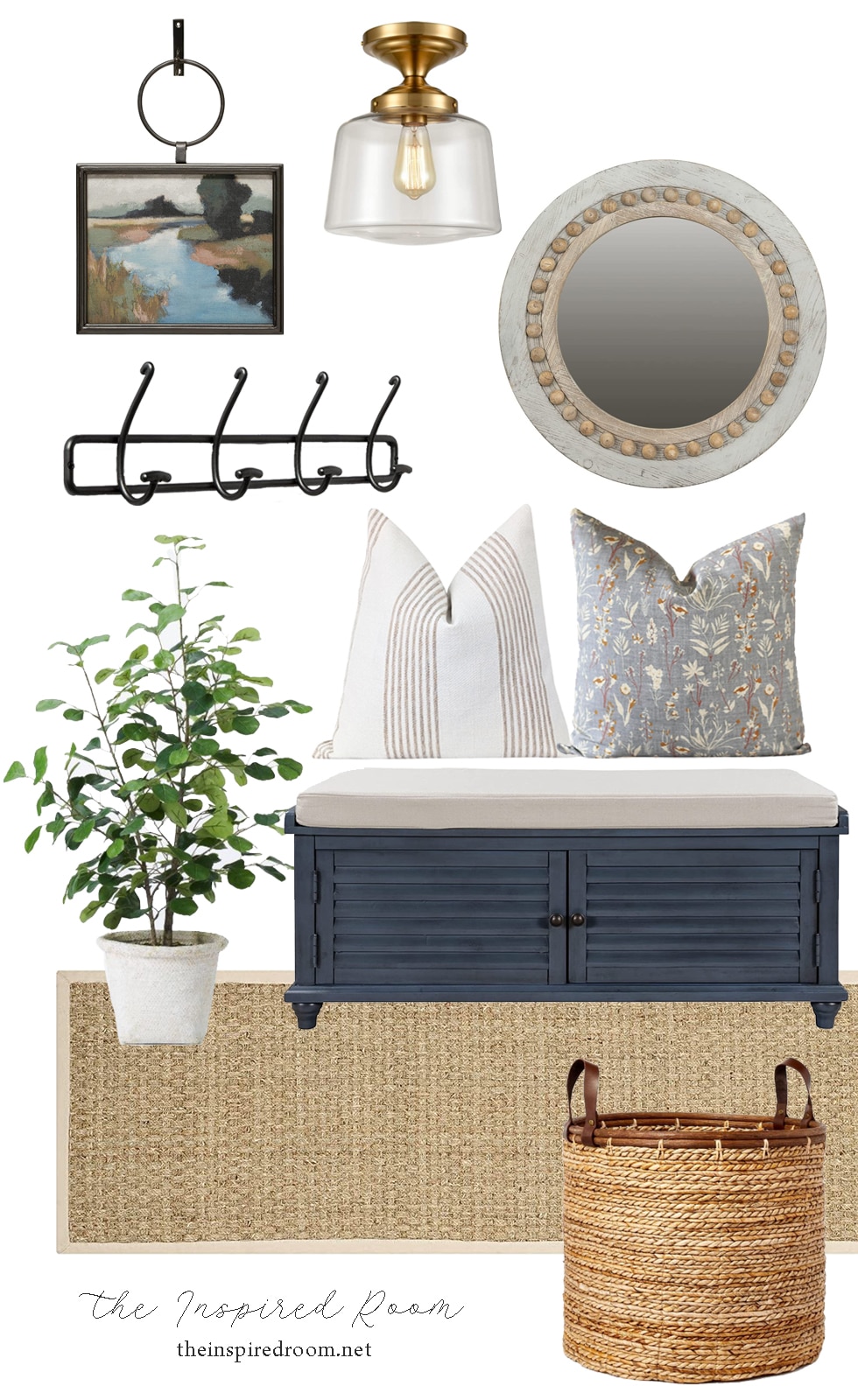 Entryways are such hardworking spaces. Perhaps you haven't really thought of your entry as a room that could (or should!) be cozier. But if this is the space that will welcome your family and friends to your home, let's make a cozier entry!
I just did a little refresh in our own small entry and I LOVE how it feels now! We only changed a thing or two, but it definitely feels more like fall now. I'll share what we did tomorrow.
In a large entry you might have plenty of room to add more cozy furnishings and decor pieces. That makes it fun and easier in some ways, but if you have a smaller space like I do (or a front door that just opens directly into the living room like Kylee's, see her entry here) a cozy mood can be created with less pieces. That's fun, too!

Mondays aren't always the most inspiring day of the week or a day we look forward to, but I hope to change that with Monday Mood Boards! Our Cozy Entry Mood Board will offer you some ideas and hopefully get you thinking about the mood of your own entry!
Is your entry cozy and welcoming? I love the mood of this board, these beautiful and practical elements could be adaptable to any season. The pieces featured in our board are a collection of elements that could also be adapted to any size entry or your own configuration of space.
Since an entry also has to be very functional, the comfort and coziness of fall can be communicated with elements that are useful to you in your space. You don't have to add a lot of seasonal decor that might end up feeling more cluttered than cozy, especially if you don't have a large space to work with.
How to Apply This Mood Board to Your Home (Make Your Entry Cozier):
You could use one item you love, or recreate the entire mood with elements that make sense in your space. Even without a dedicated entry, you would be able to adapt some of these ideas to be used near the front door to your home. Monday Mood Boards is about setting the mood, so I hope you feel inspired today.
Maybe your entry would be cozier and more practical if you were to add a basket to hold shoes. You can add a textured rug to catch the rain drops as you enter your home. If you have enough space in your entry or a nearby wall, perhaps you add a comfortable bench where you could sit and put your boots on (ideally with storage to stash a few things!). Add a couple of pillows to the bench for comfort and fall color or pattern.
If you have some wall space but no closet (or room on the back of a closet door!) hang hooks to put a raincoat when you come inside. A bit of seasonal art can add warmth and be a nod to fall. A new entry fixture will not only update the style and bring light to a dark entry, but the warm choice of finish can set a cozier mood. A little mirror tucked in somewhere near the door is always wonderful for reflecting more light back into the room but also can be a practical spot for a glance at lipstick, face or teeth before you open the door or head out for the day.
Mood board sources (clink links below for details):
Round Wood Mirror //// Faux Ficus Tree //// Leather Handle Woven Basket //// Striped Pillow Cover //// Wildflower Pillow Cover //// Seagrass Rug //// Metal Framed Landscape Art //// Clear Glass Shade Brass Ceiling Light (Amazon find–see more lighting I love here) //// Louver Storage Bench with Removable Cushion (lots of color options) ////Black Wire Wall Hook Rack
Stay tuned to see what I did to bring fall coziness to my entry! It's so simple and I used what I had! I can't wait to show you!
More entry inspiration >> Six Unexpected Ways to Create a Cozy Entry
Find more ideas for your home in this year's Fall Nesting series!